Mindset and Personal Growth Coach Aleksandra Wrzos consolidates her marvelous talk at Meet19 November 23rd. But what exactly is the difference between what people know and what they actually do?

In my short talk we discussed that we may all know some individuals who are very intelligent, highly educated but not very effective.

On the other hand, we might come across someone who does the job very well without having any formal education. We therefore have to ask: What is the difference between the ones who make it happen and the ones who don't?

There are millions of pounds spent in corporate training but there are not many exceptionally effective people. Anybody can

be

but not everybody

is

. So people are being trained and they are being shown how to do things and then they don't do it.

People know they can do better in their life, they know they are capable of more and have better results, but that doesn't mean they're going to achieve them.

Knowing is not enough. So what is?

Results, they are the name of the game. Results tell us an interesting story, they tell us where the person is programmed. Furthermore, we need to go a little deeper and understand why people behave the way they do: The answer is in a person's subconscious mind and what we call

the paradigm

.

The paradigm is that section in person's subconscious mind that gathers habits, ideas and beliefs. When we start to understand how the mind works, and understand the paradigm, we start to understand the power of it.

We also talked about two things we must know to change our results with for example, income, health and relationships: Namely we must know

where we are

and

what is our goal

. Anyone can be successful in their personal and professional life, and the key to success lies in their decision. They must decide what is that they want and use their thinking in a constructive manner to get there.

Success is not a secret, it's a process. Once the process is learned, understood and applied, results change quickly and permanently.

More on the topic above during Aleksandra's next full seminar Become a Leader in Your Field and in Your Life on

December 6th at 7pm, at Friends Meeting House, Ship Street, Brighton, BN1 1AF

As an ex-restaurant critic and having grown up cooking in kitchens I can tell you I personally can't praise Edendum enough. Gourmet dining or cool café, it's one for the Christmas wish list

They are not our host venue for nothing, walking in and being greeted is like Christmas all year round. Warm, hospitable, accommodating, knowledgeable and serving the best of Italian cuisine from all regions, Edendum is the kind of class act that doesn't need to put national flags in their branding or allude to a cinematic version of the Mafia.

Situated in East Street next to Toni and Guy, the interesting thing for me as a foodie is how Edendum bridge fine-dining with relaxed continental café culture, and they're are just as happy to see you for a proper coffee as for a three-course dining experience or a full-on booked function.

Mention you saw their Christmas menu below through Meet 19 and it won't make a difference (as much as we'd like to score biscotti points): they will be just as welcoming as they are to everyone else! It's this consistency that for us makes them perhaps the top Italian restaurant in Brighton and Hove. Need a second expert opinion? Try the Sunday Times recommendation below. The best in Brighton? Why not ditch the clichés and find out for yourself?

Edendum are now taking bookings for Christmas (menu below), reserve your table by email info@edendum.co.uk or phone 01273 733800 and experience the closest you will get to the authentic taste of Italian Christmas here in the city.


A few Meet 19 associates have asked us, what do you mean to bring something to give away at the event?

Well what we mean is freebies, and it's not an obligatory idea, but hey, we reckon it would be nice, and actually, a clever thing to do. The thing is, they act as introductions, promotion and the beginning of trade relationships, as they can get clients through your door. In reality you'll find that most people offering stuff aren't trying to hard sell you either and have already reconciled what they're giving away into the mechanism of their accounts. You can always keep a promo you've been given yourself to pass on to someone you know.

How free stuff worksTime magazine has reported that:

"companies like Procter & Gamble are figuring that one of the easiest and best ways to get people talking about their products is to simply give them away. An

article in the Journal of Marketing

found that people who got a product for free talked about it 20% more. Getting a freebie related to the product prompted them to talk about it 15% more..."

We guess it's a little like the method of the streetwise drug dealer: give it away in the beginning and get your customers hooked. As extreme a business model as this sounds, it works. As Jason Fried and David Heinemeier Hansson urge us in their business bestseller

Rework

: "Make your product so good, so addictive, so "can't miss" that giving customer a small free taste makes them come back with cash in hand…You should know that people will come back for more. If you're not confident about that, you haven't created a strong enough product. "

Savvy business promotion

For a profoundly excellent example of what we mean, Face Media Group's self-styled Head of Customer Love,

Jim Cunliffe

(slideshow above) dished out its free business cards offer when he attended the network event last. He is such a pro he will probably ring to tick me off for the crease in the cards, but I'm here to say I always keep them on me to remind other

Meet19ers

of an easy way to get stuck in, market for more clients and also pay forward to associates. The Face Media promos themselves are valid for "250 quality business cards, on 350gsm card of your choice, be it silk, uncoated or laminated (including matt, gloss or velvet lamination)."

First foot forward and in the door

Of course you may not be selling products, it may be your time, services, expertise or a combination of the four. You may find it's a stretch to give

anything

away. But Jim at Face Media knows that when people are quick to take him up on free cards, he knows the company is then the first to demonstrate its preeminence in all-round customer care – with the aforementioned mix of effort above – to earn a distinct advantage gained over competitors.

For more on Face Media's business printing try this link

: having used their online artwork system myself I can vouch for its supremely organised approach, flexible response and fastidious quality. Plus, Jim Cunliffe, as well as being quite a character, is one of the South East's top print experts and worth listening to regarding design execution and successfully getting across the best image for your business.
Powered by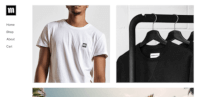 Create your own unique website with customizable templates.